Big Power For Your Small Business
Get The Wiping Power Of Enterprise Tailored To Fit Small Business Needs
WipeDrive Small Business comes with an initial 20 wipes. After the 20 drives are wiped, you may purchase more licenses to meet your needs. WipeDrive uses military-grade wiping technology to completely erase ALL information from your hard drive or external storage media. Your data will be impossible to recover, even with the most sophisticated tools.
| | WipeDrive Small Business | WipeDrive Enterprise |
| --- | --- | --- |
| Uses WipeDrive's government-grade wiping technology | | |
| Permanently and securely erases the whole drive | | |
| Bulk license purchasing | | |
| Wipes up to 100 drives simultaneously | | |
| Wipe computers remotely | | |
| RAID support | | |
| PXE network wiping support | | |
| Compatible with Windows, Mac OS, and Linux | | |
More Products For Small Business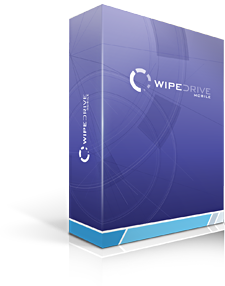 WipeDrive Mobile
Wipe iOS Devices And Re-Load Most Recent Version Of iOS
Devices erased with WipeDrive Mobile end up in a like-new state with all sensitive data gone.
More Details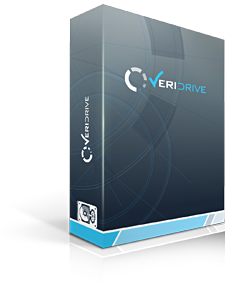 VeriDrive
Independently Verify And Document A Drive Has Been Wiped
When dealing with your company's most sensitive data, verification of a wipe is a necessity.
More Details
Flexible Data Erasure
Purchase Additional Licenses 24/7
If you run out of licenses after business hours or on the weekend, you won't be stuck. Reload your account
Customized Reporting Options
Flexibile reporting options allow you to add custom fields and generate and store reports in whatever format you need, be it PDF, text file, or stored in a database.
Multiple Deployment Options
Wipe an individual drive, multiple hard drives simultaneously, or computers in remote locations. WipeDrive can be deployed on CD, USB drive, or EXE file.
WipeDrive Dongle
WipeDrive Small Business comes with a CD of the software and Dongle preloaded with licenses for your first 3 wipes. The Dongle allows for wiping in an environment without internet connectivity. Transfer more licenses from your Cloud-Account Code to the dongle as needed. More Details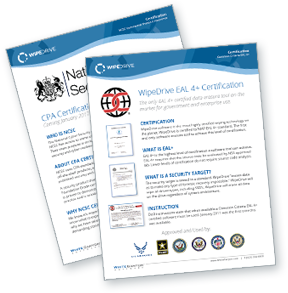 Why Certification Matters
Permanently Remove Data, Making Any Data Recovery Impossible
There is a significant difference between software claiming to comply with standards and the National Security Agency (NSA) actually certifying compliance. We don't believe our customers should have to verify that our software does what we claim, so we are Certified to EAL 2+, higher than any other software wiping tool. Our software was designed with our most risk-adverse customers' input to create a disk wiping tool that is highly efficient and provides the greatest security available.
Not Sure What You Need?
Let us help you narrow your search. What are you trying to accomplish? If you need more assistance, chat now with a customer service representative.