Remove the Data, Remove the Risk!
World Class Hard Drive Wiping Software
Try WipeDrive Enterprise Free
Save Money
WipeDrive is typically a fraction of the cost of physically destroying hard drives and other storage hardware. We'll even match or beat the price of competitive software offerings.
Full Compatibility
WipeDrive is compatible with all machines running on an x86 architecture including all versions of Windows and all version of Mac in the last 10 years.
Free Upgrades
Enterprise customers receive upgrades free of charge as they become available. There's no need to worry about your user licenses becoming outdated.
Securely Wipe Drives To Keep Data Safe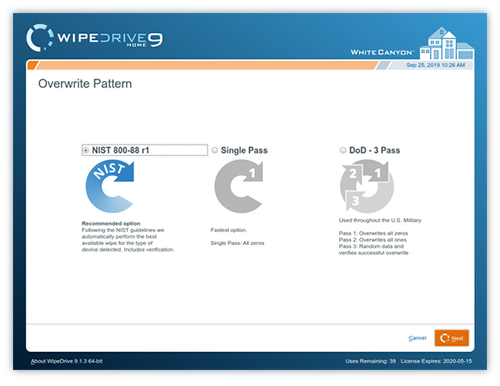 Wipe SSDs
Use WipeDrive to wipe any SSD drive that is free from manufacture defects. Retain value and re-coupe part of their costs or re-use the drives internally.
Exceeds Regulatory Standards
Get the hard drive wiping software that exceeds all major national and international regulatory and technical standards.
Make Sure It's Really Gone
When you completely wipe hard drives of all data you can be sure that data will be securely erased and eliminate accidental data leaks. WipeDrive is the best software to erase a hard drive.
Versatile Deployment
Our hard drive wipe software cab be used to wipe individual computers one at a time or hundreds of computers simultaneously from a PXE Network.
WIFI Support
WipeDrive 9 can now wirelessly initiate, activate, audit, and report adding support to the latest hardware without optical or USB drives.
Instant Crypto Key Reset
Reset all encryption keys at the beginning of every erasure - protecting against interruptions and providing additional protection to all wipe patterns.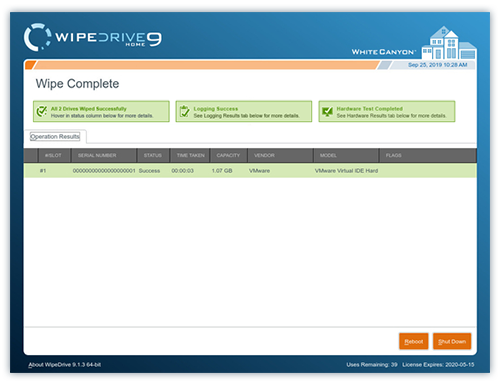 See What Our Customers Have To Say
The Most Powerful Erasure Tool
The Most Highly Certified
The World's Only EAL 2+ Common Criteria Disk Wiping Software
WipeDrive is the only data destruction solution software to wipe hard drives that has been successfully evaluated to the EAL 2+ Standard. The EAL 2+ certification is required for use by the US Department of Defense, Department of State, and Homeland Security.
Why Is Certification Important?