Portable Enterprise Erasure Kit (PEEK)
Direct-attach to storage arrays and perform erasure exponentially faster than bootable solutions
Flexible, customizable, and expandable
Configurable to erasure literally thousands of enterprise drives a day
Premium and Lite models available
NIST Clear and Purge guideline compliant
Compatible with X-Ponent expansion accessories
Turn-key, ultra-high volume hard drive erasure appliance
PEEK is an industrial level, portable data center erasure system capable of more throughput than any other software-only erasure utility. It is engineered to erase thousands of drives in a normal workday, with a single operator. This appliance is a customizable, integrated, industrial-level solution.
Configurable to support:
SAS/SATA (adaptable to IDE) - 1.5Gb, 3Gb, 6Gb
SCSI - U320, U160 and lower
Fibre Channel (FC) - HSSDC(2), LC, SC - 1Gb, 2Gb, 4Gb, 8Gb
iSCSI - 1394, USB & eSATA
---
Mobile Sanitization Lab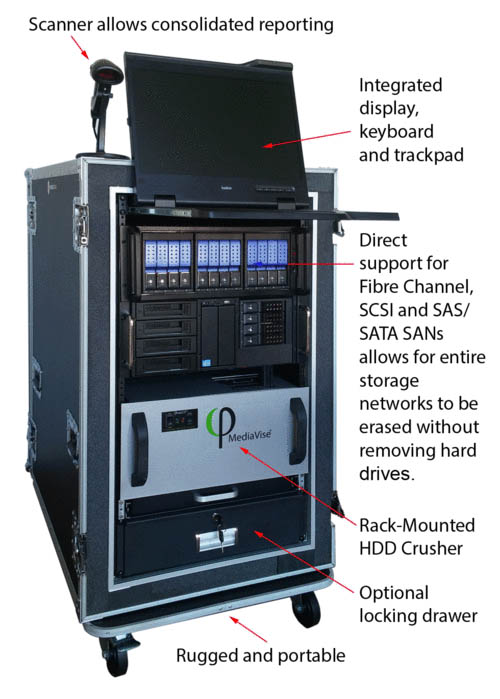 Click To Enlarge
Media erasure plus physical destruction anywhere you need it
Capable of erasing hundreds of terabytes on multiple devices across multiple protocols simultaneously.
Complete with integrated display, keyboard and trackpad
Direct support for Fibre Channel, SCSI and SAS/SATA SANs allow for entire storage networks to be erased without removing hard drives.
Integrated crusher provides immediate destruction capability for failed drives or higher security scenarios
Integrated scanning for consolidated reporting
New Hybrid Data Destruction Platform
WhiteCanyon's innovative Mobile Sanitization Lab is the first professional data destruction appliance that incorporates powerful media erasure tools with an HDD crusher for failed drives or for physical destruction requirements. This versatile hardware/software platform can be outfitted with a scanner to consolidate erased and destroyed drives in a single report.
Compliant with all major standards
DoD 5220.22-M
HIPAA
Theft & Assumption Deterrence Act
NIAP EAL 4+ (v 6.1)
Sarbanes-Oxley Act
GLB Act